Overview
Overview: Shakespeare Mine Project
Wellgreen Platinum's 100%-owned Shakespeare Ni-Cu-PGM mine project is a fully-permitted, production ready, open pit mine located in the Sudbury mine district of Ontario, Canada.  The mine was intermittently in production between 2008 and 2012 using contract mining and a custom mill processing arrangement that included treatment and refining.  Shakespeare recorded gross revenue of $11.2 million on the sale of metals from the mine for the fiscal year that ended January 31, 2012, compared to $14.9 million the previous fiscal year.
In February 2012, it was announced that operations at the Shakespeare mine had been temporarily suspended due to high on and off-site operating costs.  The mine is currently on care and maintenance while the Company completes a comprehensive review of the opportunities for cost reduction, with the goal of returning the mine to commercial production.
This review has been focused on opportunities to reduce operating costs in three key areas: toll milling/smelting contracts, reduction in ore haulage transport costs using a new, shorter route proposed by the Sagamok Anishnawbek First Nations, and the refinement of the mine plan/site operations.  The Company is targeting a 20% reduction in unit costs which at recent metal prices, could enable a sustainable operation that could also potentially fund some exploration and engineering activities at Wellgreen.
In addition, the Company is reviewing the economic and sustainability benefits associated with a used, high-quality site mill purchased from another location and a tailings storage facility, both of which are already permitted for construction.  A site mill also has potential to lengthen the life-of-mine plan, since the cut-off grade would decrease and the Company would be in a position to provide toll milling of production from other third-party-operated mines in the area.
Highlights:
Fully-permitted and production ready open-pit mine
Potential cost savings associated with transport and toll milling under review which may allow for a near term resumption of direct ship operations with minimal capital investment
Potential cost savings and improved sustainability associated with an on-site mineral processing facility
Recorded gross revenue of $11.2 million on the sale of metals from the mine for the year ended January 2012
Ontario is a mining-friendly jurisdiction: ranked in the top 20 globally by the Fraser Institute with excellent availability of skilled workers and contractors
Impacts and Benefits Agreement ("IBA") signed with Sagamok Anishnawbek First Nations
Wellgreen Platinum is currently pursuing unit operating cost saving initiatives that are anticipated to enable the restart and sustainable operation of the Shakespeare mine.  The Company believes that mining, trucking and mineral processing operations in the Sudbury region are generally underutilized due to lower grade and production levels which presents an opportunity to negotiate win-win arrangements with suppliers, contractors and the toll-milling facilities.  With lower operating costs, the Company believes the Shakespeare mine can generate positive cash flows.  In parallel, the Company is evaluating construction of a used mineral processing and associated tailings storage facility at the site that could completely eliminate haulage expenditures and greatly decrease mineral processing fees, as well as treatment/refining charges.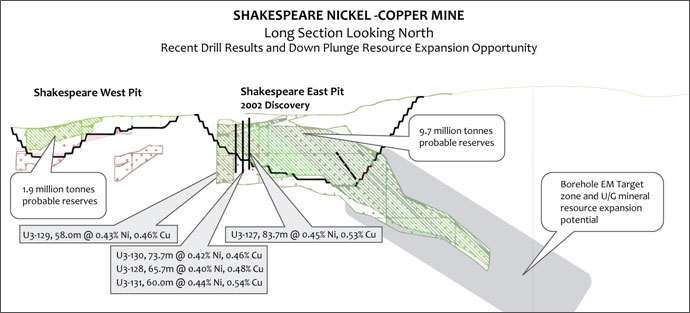 *Mineral reserve numbers are in probable category. Mr. Terrence Hennessey, P.Geo, of Micon is the qualified person for the mineral resource estimate. Mr. Eugene Puritch, P.Eng. of P&E Engineering is the qualified person for the mineral reserve estimate. Mr. Ian Ward, P.Eng. of Micon is the qualified person for the study titled "An Updated Mineral Resource Estimate and Feasibility Study Summary on the Shakespeare Deposit, Shakespeare Property, Near Espanola Ontario" by  Micon dated January 2006.
Production
151,910 tonnes of ore, at a grade of 0.314% nickel, 0.368% copper, 0.019% cobalt, 0.348 g/t platinum, 0.389 g/t palladium, 0.203 g/t gold and 2.164 g/t silver, was produced at Shakespeare and delivered to the Xstrata Nickel Strathcona Mill in 2011 (fiscal year that ended January 31, 2012).  2010 Shakespeare production (9 months) to the Strathcona Mill was 166,913 tonnes of ore grading 0.357% nickel, 0.407% copper, 0.025% cobalt, and 0.989 g/t PGMs+gold.
The table below shows the approximate contained metals in the delivered ore.  The contained metals were then subject to mill, treatment and refining recoveries and treatment / refining deductions.
Platinum

(oz.)

Palladium

(oz.)

Gold

(oz.)

Silver

(oz.)

Nickel

(lbs.)

Copper

(lbs.)

Cobalt

(lbs.)

2011

1650

1840

960

10,260

1,052,000

1,234,000

64,700

2010

1900

2100

1100

12,100

1,314,000

1,499,000

92,204
Permits and Agreements
The Shakespeare mine project has all permits required to operate as a direct ship mine, as well as to construct a mineral processing and tailings storage facility on site.  These include a Permit to Take Water, Certificate of Approval for noise and air emissions, and a Certificate of Approval for the Shakespeare Mine and Mill co-disposal facility and sedimentation pond for water treatment. Ursa Major, a wholly-owned subsidiary, also received acceptance of a certified Closure Plan for the Shakespeare Mine and Mill Project from the Ontario Ministry of Northern Development and Mines ("MNDM") in 2007. In addition, Ursa Major received a permit from the Ontario Ministry of Natural Resources ("MNR") for the operation of a gravel pit located approximately 3 km north of the Shakespeare mine project.
In August 2009, an Impacts and Benefits Agreement ("IBA") was signed with Sagamok Anishnawbek First Nations ("Sagamok"). This IBA remains in effect with Wellgreen Platinum.
Click here for the Qualified Person information, Legal Notice, forward-looking information and the cautionary note.