Anglo American Platinum under attack on several fronts
September 25th, 2013 by Cecilia Jamasmie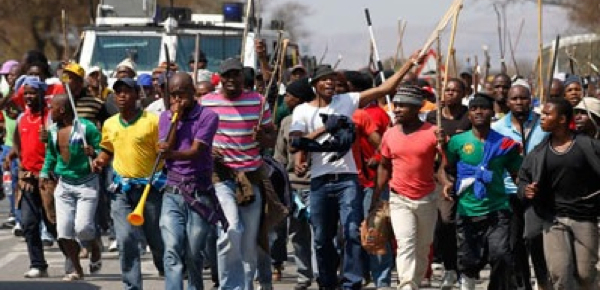 Anglo American Platinum (Amplats) (LON:AAL), the world's largest producer of the precious metal, is being taken to court and is set to face a strike beginning Friday, over its decision to cut 3,300 jobs at it operations in South Africa.
The National Union of Mineworkers, which represents the majority of workers employed by Anglo American Platinum, said Wednesday it is suing the company and accused it of "departing from the numbers" workers and management had settled on, Bloomberg reports.
Another main labour group, The Association of Mineworkers and Construction Union (Amcu), announced it would begin a strike on Friday, in a bid to push Amplats to reconsider its scaling back plans.
The company had initially planned to cut 14,000 jobs, but backed off after pressure from government and unions. It announced last month it would fired "only" 3,300 workers at its Rustenburg operations, while a further 1,600 would be offered voluntary severance packages.
Amplats wants to consolidate five of its South African mines with nine shaft systems into three operating mines and reduce annual production by 350,000 ounces.
The miner has said it is not making enough money at those operations, due to mounting electricity and labour costs, as well as weaker prices. South Africa's Chamber of Mines estimates that at least half of the country's gold and platinum mines are losing money or barely breaking even.
Image from last year's strike at Amplats
The post Anglo American Platinum under attack on several fronts appeared first on MINING.com.