Platinum giant Lonmin returns to profit after stormy year
November 12th, 2013 by Cecilia Jamasmie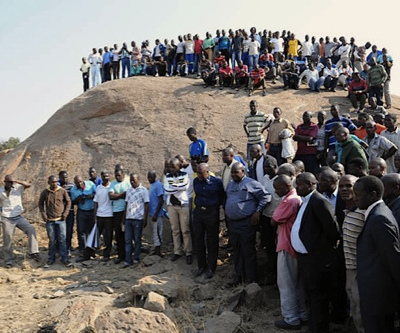 South African Lonmin (LON: LMI), the world's third largest platinum producer, managed to swing back into the black and reach its best output since 2007, despite a turbulent year that saw the company deal with safety stoppages and labour disputes.
The firm said full-year production, sales and cash costs beat its own guidance, posting pre-tax profits of $140 million, which exceeded analysts' forecasts. Last year, the platinum miner announced pre-tax losses of $698 million.
On top of turbulence caused by union unrest, Lonmin was also affected by renewed violence at its mines, particularly Marikana, where 34 workers were shot and killed by police during a strike in August 2012.
Chief executive Ben Magara, who took on the role in July, has set out a turnaround plan since his appointment, ramping up production and reshuffling the management team.
"What is happening on the ground is very pleasing," Magara said while delivering the firm's 2013 final results. "We still need productivity to come up . . . we need to move from creating operational credibility into operational excellence."
Lonmin said it is maintaining next year's guidance of sales above 750,000 ounces and capital expenditure of $210 million, in line with the renewal plan.
The miner remains in challenging wage negotiations with the Association of Mineworkers and Construction Union (AMCU), which has grown rapidly to dominate the platinum sector in the wake of last year's strikes.
Image from Flickr
The post Platinum giant Lonmin returns to profit after stormy year appeared first on MINING.com.