Platinum sector strike in South Africa leads to first death
February 7th, 2014 by Cecilia Jamasmie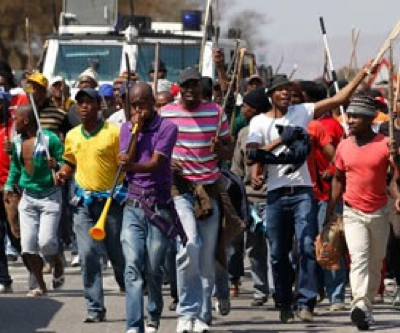 A man has been killed outside a South African mine owned by Anglo American Platinum (LON:AAL), the world's No. 1 platinum producer, after police fired rubber bullets and stun grenades to disperse a crowd of protesters.
A police spokesman told Bloomberg that officers went to the Amplats mine in the northern South Africa province of Limpopo as soon as they saw smoke coming from the area.
Protesters allegedly began throwing rocks at police, who responded shooting rubber bullets and stun grenades at the crowd, reports AFP.
An investigation is already under way to determine whether police officers or the mine's private security firm were responsible for the miner's death.
In the last two weeks, South Africa's platinum sector has been affected by one of the worst strikes since August 2012, forcing miners to halt most operations. Since the 2012 strikes, remembered by the death of 34 miners shot by police at Lonmin's (LON:LMI) Marikana mine, labour disputes have remained fierce and police have responded aggressively.
South Africa, the world's largest platinum producer, accounts for nearly 70% of global output of the metal.
The post Platinum sector strike in South Africa leads to first death appeared first on MINING.com.