Sector-wide platinum strike looks likely
November 3rd, 2013 by Ana Komnenic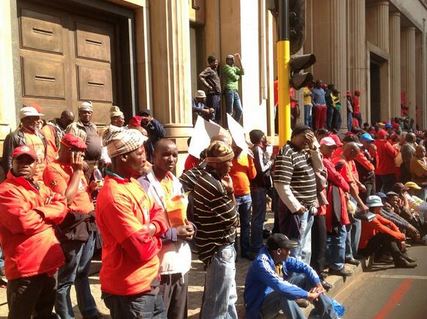 Unhappy with wages at Northam Platinum, members of South Africa's National Union of Mineworkers (NUM) are striking, Bloomberg reports.
On Thursday, the union gave the company 48 hours to make a new offer after the labour group rejected wage increases of between seven and eight percent.
NUM's demands equate to an average increase of 61%, Northam noted in a statement released on Thursday.
Strike action is affecting Northam's Zondereinde mine - the company's biggest project.
Northam - a mid-tier producer - is not alone: A sector-wide strikes seems likely as wage negotiations with other major platinum producers heat up. The Association of Mineworkers and Construction Union (AMCU) is inching closer and closer to strike action at Impala Platinum Holdings (Implats), Lonmin and Anglo American Platinum (Amplats). AMCU declared a wage dispute with Lonmin on Thursday.
On Wednesday, AMCU treasurer said a strike "could happen jointly," Bloomberg reports.
The post Sector-wide platinum strike looks likely appeared first on MINING.com.